Le Fournil de Sébastien: in the press
magazines
Het geheim achter goed Frans brood
Buitenlandse broodsoorten tref je steeds meer aan op de Nederlandse eettafels. Een belangrijk en beroemd segment is het Franse brood. Wat onderscheidt het Franse brood van het Nederlandse en hoe maak je goed Frans brood?
Sebastien Roturier van Le Fournil in Amsterdam
'Vooral de harde korst en de zachte binnenkant. Die binnenkant moet als het ware smelten op je tong en vooral niet droog zijn, terwijl de korst hard en knapperig moet zijn. Waar ik wat moeite mee heb is het generaliseren van het Franse brood. Dat bestaat namelijk niet! Wat zo leuk is aan (ambachtelijk) Frans brood (en dan heb ik het niet over Frans supermarktbrood) is dat iedere bakker zijn eigen specifieke werkwijze en recepten heeft.'
'Zoveel bakkers, zoveel smaken, en er zijn wel 1001 manieren om een Franse baguette te maken, wat ook weer per regio verschilt. Ik zou niet kunnen zeggen wat de gouden tips of valkuilen zijn om Frans brood te maken, dat is voor iedere Franse bakker weer anders en kun je niet in het algemeen zeggen.
En omdat de werkwijze van iedere Franse bakker weer anders is, is ook de grondstofkeuze daarop afgestemd.'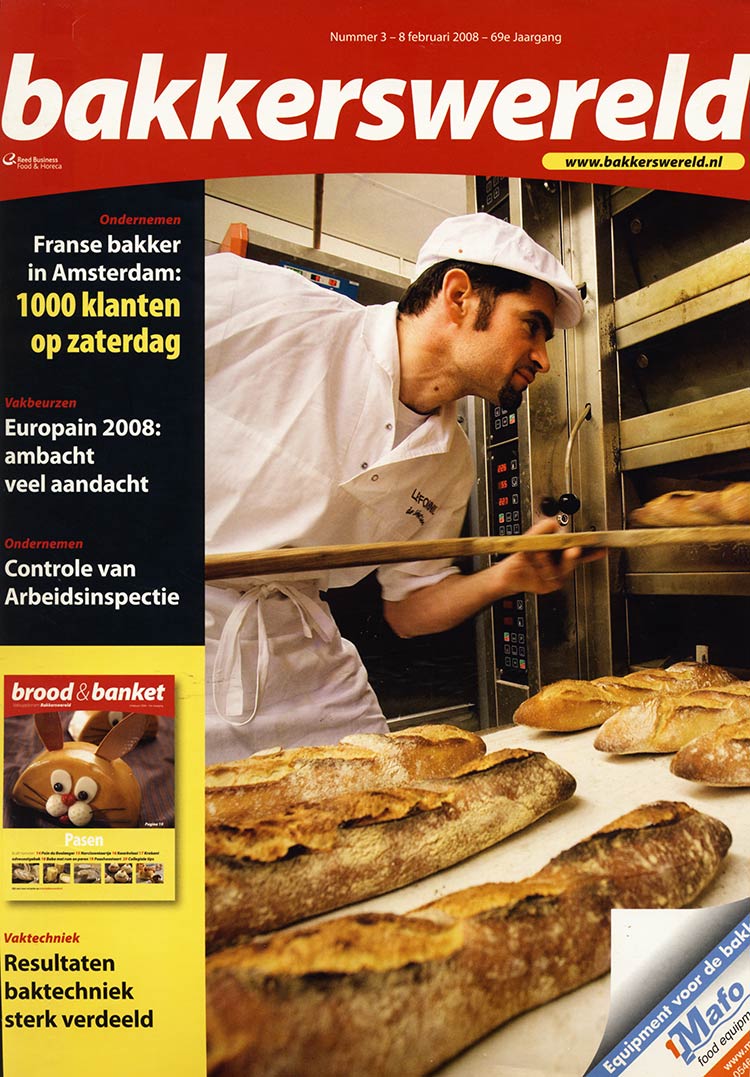 Olympiaplein 119
1077 CW Amsterdam
Tel.: 020-6724211
Open from Monday to Saturday:
7 am to 7 pm.
Gijsbr. van Amstelstraat 131
1214 AW Hilversum
Tel.: 035-6210602
Open from Monday to Saturday:
7 am to 7 pm.
Amsterdamseweg 189
1182 GV Amstelveen
Tel.: 020-8232412
Open from Monday to Saturday:
7.30 am to 7pm.