Le Fournil de Sébastien: in the press
magazines
Succesvolle Franse bakker ook in Hilversum
Sébastien en Susan Roturier hebben sinds maandag 4 augustus een tweede winkel in Hilversum. Het Franse echtpaar startte in 2007 een Franse bakkerij in Oud-Zuid in Amsterdam. Dit succes zetten ze nu in Hilversum voort.
De belangstelling voor de zaak in Amsterdam is ruim een jaar later met 700 klanten per werkdag en 1000 klanten op een gemiddelde zaterdag zo overweldigend dat de twee besloten om ook in Hilversum aan de Gijsbrecht van Amstelstraat met hetzelfde concept een slag te slaan. 'In Frankrijk had ik drie bakkerijen onder mijn hoede, dus dit zal ook wel lukken': laat Sébastien lachend weten. 'In Hilversum heb ik wat meer productieruimte tot mijn beschikking, zodat een deel van het brood dat we in Amsterdam verkopen, daar geproduceerd wordt. We komen op een goede locatie, waar veel expats wonen.'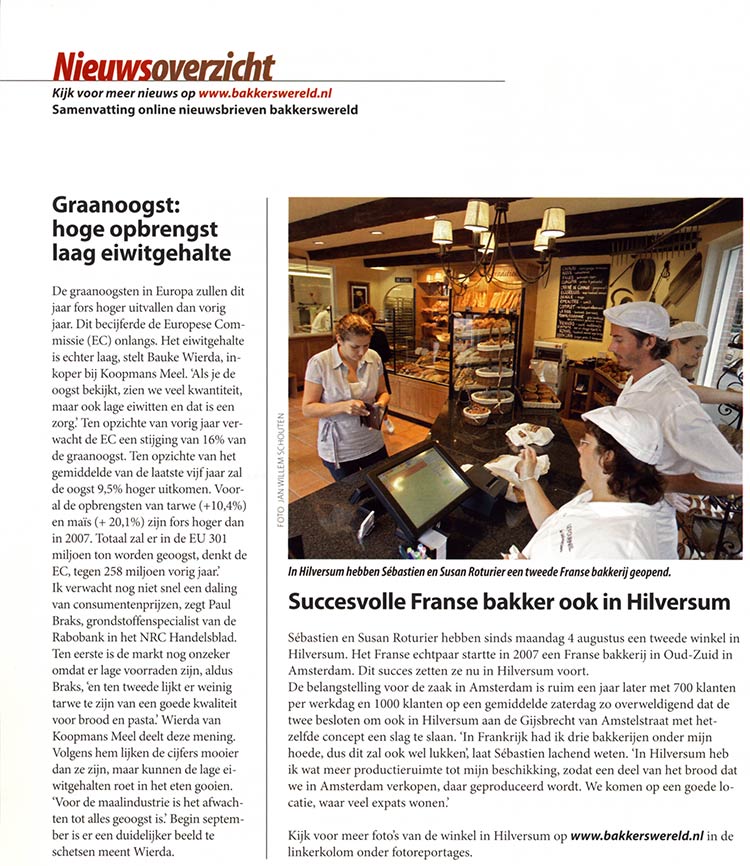 Olympiaplein 119
1077 CW Amsterdam
Tel.: 020-6724211
Open from Monday to Saturday:
7 am to 7 pm.
Gijsbr. van Amstelstraat 131
1214 AW Hilversum
Tel.: 035-6210602
Open from Monday to Saturday:
7 am to 7 pm.
Amsterdamseweg 189
1182 GV Amstelveen
Tel.: 020-8232412
Open from Monday to Saturday:
7.30 am to 7pm.