Le Fournil de Sébastien: presse
journaux
A French fantasy
It's an addiction. I like to think of it as culinary, but it probably isn't completely innocent.
It all starts when, after a long absence from Amsterdam, I walk by a window on my street and stop cold. There, in full view of passers-by, is a handful of handsome men doing what handsome men do best-kneading dough. I ask around and find that I'm not the first girl on the block to make this discovery. There are more ladies taking morning walks around Olympiaplein. And many more baked goods being eaten in my neighbourhood.
Not just any baked goods: French baked goods. All thanks to Le Foumil de Sébastien.
At first, I adjust my own route a bit-passing the window only on the days when I think about it. Soon I'm observing them every day, radiant in their pressed white uniforms. One morning their hands deep in dough; the next, nestling slices of chocolate into uncooked pain au chocolat and rolling them over and over and over…
After a few months of gawking, I make a dicision: I need to get some of that!
The first day I enter the bakery, I'm tongue-tied. Here stands one of the window men, asking for my order. I stammer and order a croissant (€1,00), the only thing I can pronounce. 'Anything else?' My burning cheeks remind me to bring something back to my partner- in-all-things-marital. I order a bite-size pear tart (€2.20) and hurry out with my purchases.
Back home, I tear off a piece of croissant, a golden fragment of delicate pastry. Inside, it's buttery. Not a shout, like the Dutch imitators, but a gentle whisper, a reassurance that butter is here. No need for jam. That would only cheapen the experience.
I give the pear tart to Partner. Guilt practically wafts out of the bag when I hand it to him. He pronounces it sweet and much too petit.
The next morning I return. Partner gets another guilt offering-a pain au chocolat (€1.05). Sweet but not too flaky (the perfect addiction). I try the briochette a l'orange (€1,20). Topped with granules of pearl sugar and filled with a subtle orange cream, the small brioche is chewy and soft.
A few hours later, I'm back for more. My takeaway sandwich (€4.20) has fresh tomatoes and basil, with mozzarella cheese that's been marinated overnight in garlic, all caught inside a mini loaf of the bakery's cigalou. Black and green olives dot the bread. Like any romance, the loaf doesn't give itself over to me right away, but it resists just the right amount. The flavours are more Sud de France than Amsterdam Zuid. Partner has the l'Auvergnat with Parma ham and Salers cheese from the mountains of Auvergne (€4.20). The fresh baguette is spread with French salted butter and a confit of roasted tomatoes. The saltiness is pleasant and balanced.
My curiosity is satisfied. My appetite is sated. But, not surprisingly, my addiction is stronger than before. I know that abstinence is unacceptable. The only possibility is to give in to the craving – and add another lap around the Olympiaplein every morning. The way I'm feeling about Le Fournil de Sébastien, I'm going to need the exercise.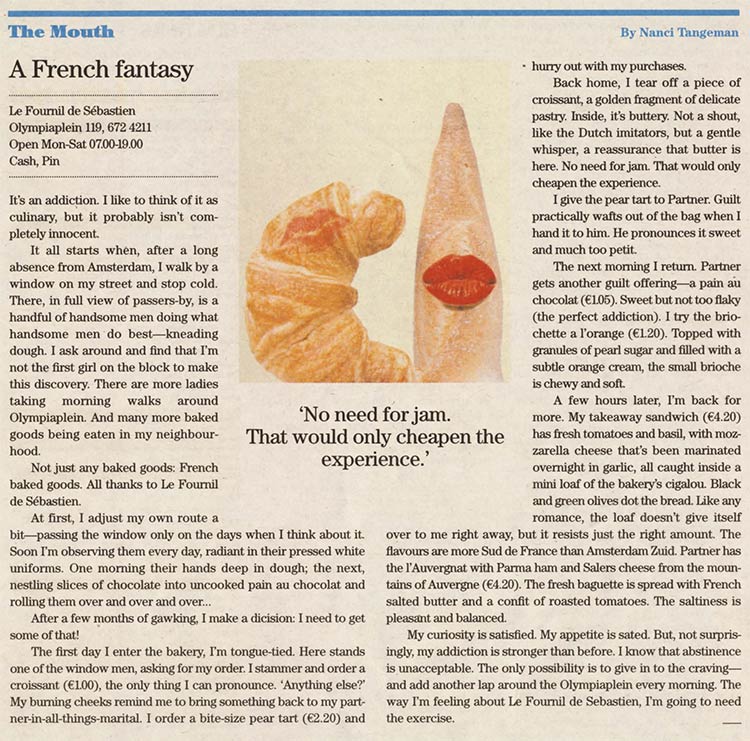 Olympiaplein 119
1077 CW Amsterdam
Tel.: 020-6724211
Ouvert du Lundi au Samedi
de 07h00 à 19h00.
Gijsbr. van Amstelstraat 131
1214 AW Hilversum
Tel.: 035-6210602
Ouvert du Lundi au Samedi
de 07h00 à 19h00.
Amsterdamseweg 189
1182 GV Amstelveen
Tel.: 020-8232412
Ouvert du Lundi au Samedi
de 07h30 à 19h00.